April 18 – 21, 2023 – Beau Rivage Resort Biloxi
Conference Registration
Registration for the 2023 MAPDD Annual Conference is now open.
Program Fees
Early Registration Rate: $325
Late Registration (after April 5, 2022): $375
Guest Registration: $100
Hotel Room Rate: $159 per night (includes resort fee)
The room rate is guaranteed until March 21, 2022
Accommodations
Conference participants will stay at the Beau Rivage Resort in Biloxi. To make reservations use the hotel reservation link or call the Beau Rivage at 1-888-567-6667. Be sure to mention you are with the Mississippi Planning and Development Districts Conference to receive the group rate of $159 per night plus tax. The rate is guaranteed until March 21, 2022, requires a first night deposit and includes the resort fee.
Conference Agenda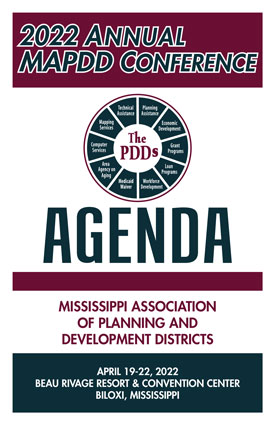 Tuesday, April 19
11:00am- 5:00pm Registration
11:30am-5:00pm TRIO Golden Gator Golf Tournament
11:00am; 2:00pm Betsy Ann Riverboat Cruises
6:00pm-8:00pm TRIO Early Bird Reception at the Town Green
Wednesday, April 20
7:30am- 8:30am Morning Pastries
8:00am-5:00pm Registration
8:00am-Noon Educational Sessions
Noon Luncheon featuring Joe McKinney, NADO Executive Director
1:00pm-5:00pm Educational Sessions
5:00pm-6:00pm Cocktails on the Terrace
Thursday, April 21
7:30am- 8:30am Morning Pastries
8:00am-Noon Registration
8:00am-Noon Educational Sessions
Noon Luncheon featuring Michael Watson, Secretary of State
2:00pm Closing Session sponsored by Help at Home
6:00pm-10:00pm Gala Reception
Friday, April 22
7:30-9:30 Closing Breakfast
Tuesday Activities
Golden Gator Golf Tournament
Conference participants may register to play in the TRIO Golden Gator Golf Tournament being held Tuesday, April 19, at the Shell Landing Golf Course in Gautier, compliments of TRIO Community Meals. Lunch will be provided for golf participants at noon with a shotgun tournament start at 1:00 pm. The tournament does require participants to pre-register and is limited to the first 72 players.
Betsy Ann Riverboat Cruise
Conference participants may register to participate in a riverboat cruise of the MS Gulf on Tuesday, April 19, from 11:00 – 1:00 or 2:00 – 4:00. The cruise will feature a two-hour riverboat cruise between Deer Island and Biloxi. During the cruise you will be able to enjoy beautiful scenery and delightful wildlife sightings.
Early-Bird Reception
Conference participants are encouraged to join us as we kick off the conference at the Biloxi Town Green. The Town Green is located on Beach Boulevard (Hwy 90) one block east of the Beau Rivage. The Early-Bird reception is sponsored by TRIO Community Meals and will feature live music.
Educational Sessions
The conference will feature a variety of sessions for conference attendees. Elective Certified Municipal Official credits through the MS Municipal League will be offered for conference attendees. In addition, applications are pending with the MS Board of Examiners to offer continuing education hours for social workers. Educational topics include but are not limited to:
| | | |
| --- | --- | --- |
| Utility Management Tools | 2020 Census Data | Small Business Resource Partners |
| Accessing Business Capital | Accelerate MS Programs | Workforce Development Opportunities |
| Local Industry Apprenticeships | Federal and State Grant Funding Opportunities | Water Viability Workshop |
| Planning for Successful and Useful Parks | PERS Update | FMLA Requirements |
| Cyber Security | Elder Fraud and Scam Prevention | Recognizing the "Ability" in Disability |
| Normal Aging & Not Normal Aging | Person-Centered Planning | Serving Seniors |
Conference Sponsors
There are a number of ways your company can participate as a conference sponsor. 2022 Sponsorship information can be found here. To customize your sponsorship opportunity contact MAPDD staff members.
For more information regarding the 2022 MAPDD Conference contact MAPDD staff here.